Mirela Kotarac, CEMEX Hrvatska Human Resources Director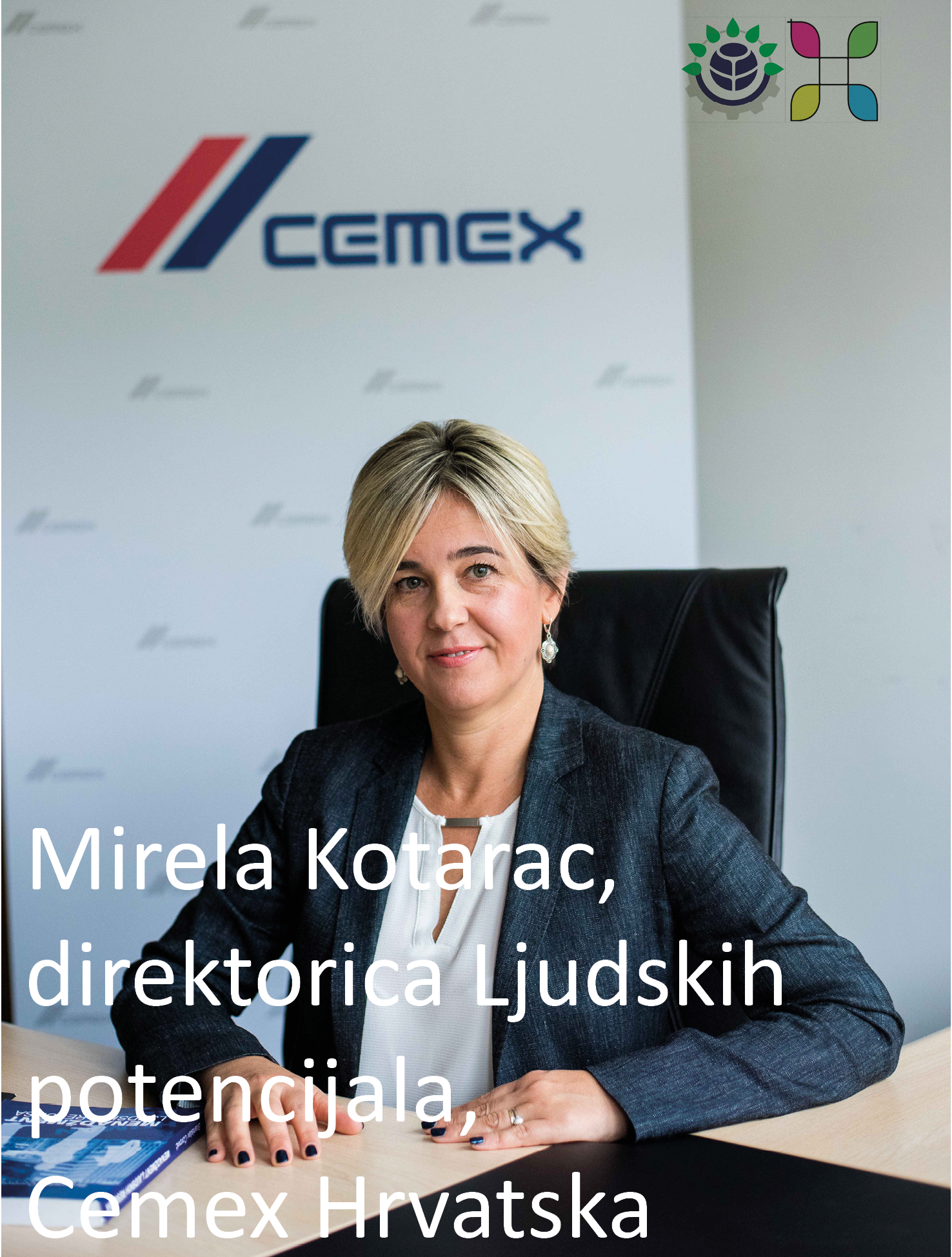 Mirela Kotarac, CEMEX Hrvatska Human Resources Director
U sklopu dvogodišnjeg projekta Lideri uključivosti na radnome mjestu donosimo intervjue s čelnicima kompanija potpisnika Povelje o raznolikosti

Benefits  as a result of increasing D&I in Cemex are creativity and innovation, higher employee engagement, commitment, loyalty and retention, reduced absence rates, leading to higher productivity and profitability, to name just some of them.
Could you share with us some key milestones in the D&I journey of your company?
Along with the global D&I policy (since 2018), we also have a local policy since 2019. During 2020, a challenging year for all, we focused on securing a safe workplace for our workforce, and this was done by carefully considering diversity aspects as well, e.g. healthcare needs of specific groups, support for working parents etc. Apart for dealing with this all-encompassing issue, we participated in UN Women´s Empowerment Principles (WEP) Assessment which resulted in formalizing our efforts in the region through the establishing our EMEAA (Europe, Middle East, Africa and Asia) Diversity & Inclusion Committee. This committee has the following goals:
Cultivate a diverse and inclusive workplace
Strengthen and enhance our diversity and inclusion commitments
Promote ideas and engage people with the spirit of D&I
Implement initiatives, policies and practices that positively impact the workforce experience journey.
This regional committee includes country members and is active in the global D&I quarterly meetings. The committee forms our efforts in recognizing the importance of gender equality by channelling and aligning multiple local activities with global strategies and guidelines.
What aspects of diversity management have the highest priority in your company?
We strive to promote and implement our top management eNPS (employer Net Promoter Score) pledge, commitment to value our workforce diversity. We want to foster an environment that enables diversity and allows all our people to feel empowered, valued, respected and safe. In that sense, most important issues on this journey are greater gender balance at entry-level as well as on all managerial positions through succession planning efforts, more balance gender participation in CXU Leadership Development Programs, Pay Gap Reporting, increased regional and local participation in CEMEX Global Women´s Network and promoting inclusiveness within our communities and construction industry, still predominantly considered a śmaleť industry.
Which D&I activities have been implemented in your organization so far?
So far, we have been regularly surveying our employees™ opinion on our D&I culture as a part of annual Employee Experience survey. This year we have started the deep dive into the subject by conducting an external Diversity, Equality and Inclusion audit which is expected to help us detect the gaps and appropriate activities in improving our workplace as inclusive and family friendly based on open communication, trust and diversity. The action plan implementation is projected to be completed by the end of 2021. In March we had global and local programs to celebrate International Women™s Day, including an online panel discussion about the position of women in our organization, and a series of webinars showcasing our women leaders and their experiences.
In your opinion, what are the biggest challenges faced by the industry sector in creating a diverse and inclusive workforce?
Construction and cement industry is by its nature a workplace with high share of male employees. Although advanced organizations have systems and tools in place to promote equality, we still face lots of unconscious biases. There is the space for significant improvement, but this is a long-term process.
What business benefits do you see as a result of increasing D&I?
Creativity and innovation, higher employee engagement, commitment, loyalty and retention, reduced absence rates, leading to higher productivity and profitability, to name just some of them.
Can you name three diversity challenges that companies have to pay attention to?
To actually live and feel equality through the whole organization and on everyday basis as opposite to showing off the D&I policies as part of employer branding and fitting in the global trends.
The need to avoid śforcingť or insisting on female participation or any other minority representative participation only to achieve our D&I goals and KPIs. Organizations must build equal opportunity environment, make best use of our diverse abilities and find the optimal match between job roles and one™s capabilities.
Organizations must acknowledge the fact that female equality and engagement in the organizations starts with the śsupport at homeť. Understanding and help from the family and a partner is the basis for true equality in the workplace. Organizations and society must help in recognizing and promoting this very basic assumption for diversity and equality to bloom in the future.
What do you do to convince your colleagues to see the value in diversity management, or even more to truly get them on board?
It is a matter of śwalking the talkť; the best way to convince someone about the benefit of something is to show where the benefits are on your own example. People who witness diversity in action in their own everyday work can truly understand the value and opportunities it can bring for growth, innovation, development.
Any plans for the upcoming #EUDiversityMonth this May?
Yes, the earlier mentioned project on Diversity, Equality and Inclusion audit and action planning is going to be kicked off in May and it will be internally communicated and promoted.
This interview was produced with the financial support of the European Union (project Workplace Inclusion Champion WIC). Its contents are the sole responsibility of the author and do not necessarily reflect the views of the European Union.