Ivan Ročić, Securitas Hrvatska CEO
Ivan Ročić, Securitas Hrvatska CEO
U sklopu dvogodišnjeg projekta Lideri uključivosti na radnome mjestu donosimo intervjue s čelnicima kompanija potpisnika Povelje o raznolikosti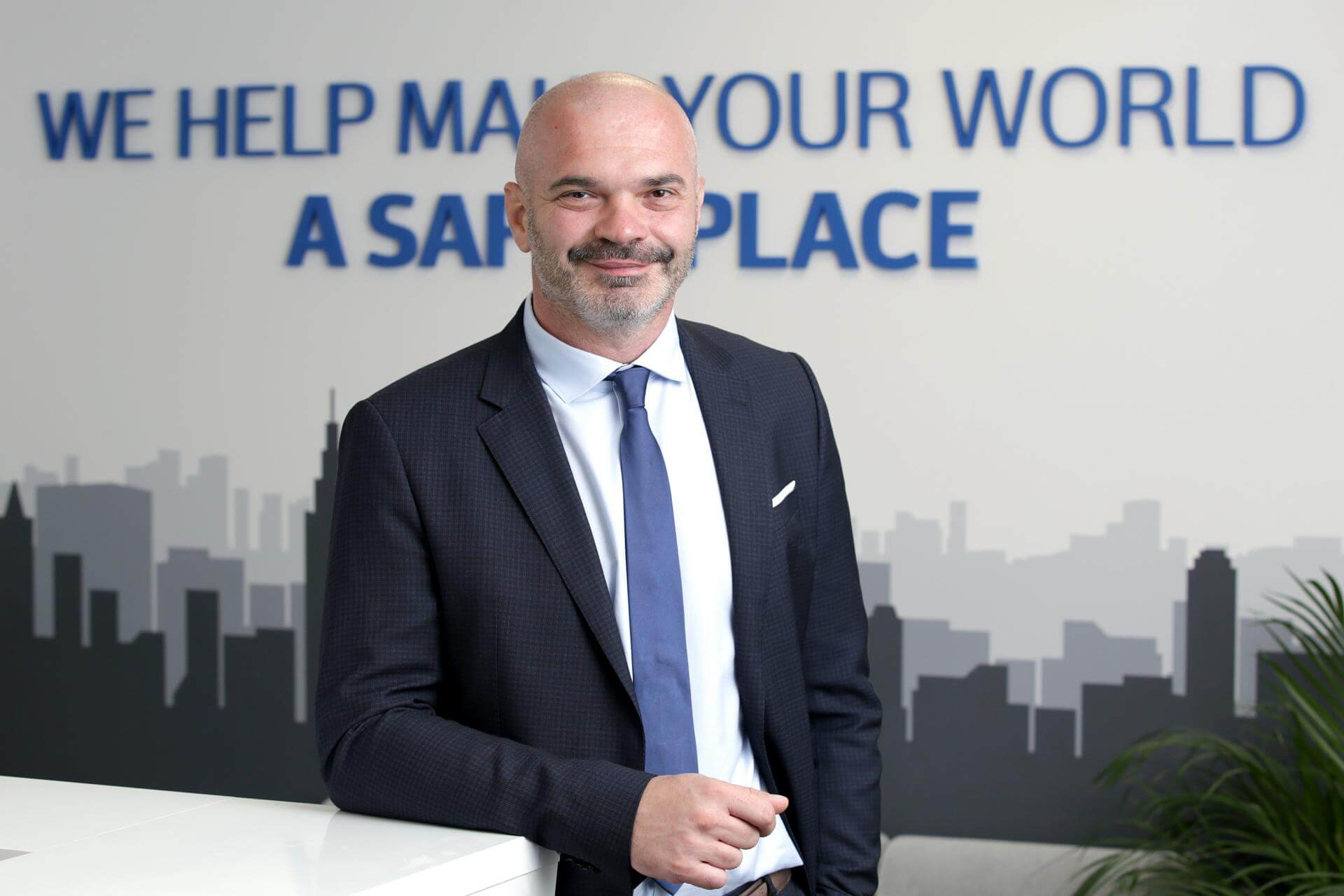 When hiring, we are guided by the expertise and competencies of each individual, regardless to age, religion or sexual orientation. A person who possesses required qualities and is willing to share Securitas values is more than welcome to join the Securitas team. Of course, there are legal frameworks of the Republic of Croatia that we are obliged to take into account when hiring new security guard.
Could you share with us some key milestones in the D&I journey of your
company
?
Securitas as an organization takes its commitment to diversity very seriously and recognizes the need to be as diverse as the society we serve. From our žfirst steps ś, as a part of the Securitas Group, 'till now, we are trying our best to implement and promote a policy of diversity and non-discrimination. We can say that we became the leaders in this segment in our local environment. Over the years, we have managed to break many myths when it comes to the Croatian security industry. Our industry is accompanied by many stereotypes, of which the most known is that security industry is a primarily žmaleś occupation. If we look at the broader context, we serve as an example to our business environment and empower the local community in the field of equality.
What aspects of diversity management have the highest priority in your company?
The members of the Securitas team are people of all kinds of abilities, ages, nationalities, life experiences, race, religion, gender and sexual orientation. Why do we insist on promoting diversity? People are our greatest value.
When hiring, we are guided by the expertise and competencies of each individual, regardless to age, religion or sexual orientation. A person who possesses required qualities and is willing to share Securitas values is more than welcome to join the Securitas team. Of course, there are legal frameworks of the Republic of Croatia that we are obliged to take into account when hiring new security guard.
We make special efforts to achieve gender diversity in all job positions, since this subject is mostly spoken of in our line of business. Our target in the coming period will be that the percentage of women in all managerial positions is at least equal to the percentage of women employed as security guards. As their numbers continue to grow, women™s contribution to community of safety is becoming increasingly significant.
Which D&I activities have been implemented in your organization so far?
In our quarterly magazine śMoj Securitasť, which is intended for all our employees and associates, we often cover topics related to diversity in the workplace, including comments and interviews with experts, internal and external. In each issue we present one of our employees who through an interview presents her/his role at work, work tasks and a certain aspect of diversity through her/his personal story.
We select the "Employees of the Quarter" - 1 employee from each of 4 Securitas business regions, who in the previous period stood out with their knowledge, skills or a certain specific action. They are Securitas heroes chosen by our Area and Branch managers. At the end of the year, among 12 nominees, we announce the śEmployee of the Yearť. With this, we want to emphasise a positive work atmosphere and our pride and passion- the things that are most valuable to this company and inspire all team members to be even more persistent in our purpose.
Through our digital platforms, primarily the website and social networks, we inform the public about our activities, transfer new knowledge and information on the topic, exchange experiences and share practices on a weekly basis.
We equally represent men and women in all our marketing materials and media platforms. During 2019/2020 we have implemented many activities to attract as diverse employees as possible.
In order to promote equality regarding age, from January 2019, we started campaigns in which retirees were our target audience. Now, 150 retired part-time employees are valuable part of our team.
In your opinion, what are the biggest challenges faced by the industry sector in creating a diverse and inclusive workforce?
T
here are still stereotypes in our society according to which not all occupations are suitable for everyone when it comes to gender or age, etc. When it comes to the security industry, as I mentioned earlier, the most prominent is the prejudice that it is a men's industry. Fortunately, things in Croatia have changed a lot over the past years. Today, Securitas Hrvatska has 2300 employees, and about 22% are women working as security guards.
In 2017 Securitas Hrvatska was a signatory to the Diversity charter and is the only security company in Croatia that has done so. Through our workplace diversity activities, we also seek to influence both our employees and clients. This is not an easy task in the conditions of still conservative conceptions of our work. Today more and more of our clients recognize the importance of diverse workforce and its contribution to their own business success.
What business benefits do you see as a result of increasing D&I?
What diversity brings us (in all job positions) from the business side of view, is a huge capital composed of different competencies, skills and talents. Synergy is a key term I would use here. The synergy effect of all activities is immeasurably greater when you have diverse team members. Such environment allows each team member to express her/himself, to be creative, to bring something of her/his own to the whole team, to learn and be innovative. It generates many great ideas and ultimately increases our competitive advantage in the market as well as our business result. More ideas bring more value!
Can you name three diversity challenges that companies have to pay attention to?
Apart from the already mentioned issue of gender equality in our industry, I must point out the different age groups and challenges they face in labour market. It is thought that young people have insufficient experience, that middle-aged people often combine work with caring for children and for older parents, that older people do not follow modern technologies and cannot keep up with new trends. We, as a large company, are in the position of bringing together all age groups and encourage intergenerational collaboration.
I would also like to highlight another challenge, given the current conditions of the global world pandemic. We all need to take special care of mental health and provide support to all our employees. Working from home, fear, uncertainty and the need to distance oneself are not normal circumstances. We try to make it easier for our employees during this period and maintain the best possible communication through online platforms and activities.
What do you do to convince your colleagues to see the value in diversity management, or even more to truly get them on board?
First of all, when joining the Securitas team, each new employee must adopt and then uncompromisingly follow Securitas ™Values ‹‹and Ethics Code™. At Securitas, we all strive to do the right things when it comes to clients, employees and society. The Code is a basic rulebook that provides guidance in these areas. Our code applies to everyone.
The Securitas Group has formed an initiative for Diversity and Inclusion, out of a firm belief that diversity in the company contributes to achieving the best business results. Through internal activities, encouraging dialogue and networking among employees, as well as our own example in practice, we create this atmosphere of openness, tolerance and equality on a daily basis.
Any plans for the upcoming #EUDiversityMonth this May?
In May, we will implement several key activities related to the celebration of the Month of Diversity. In the newest issue of our magazine śMoj Securitasť, we will dedicate an entire column to this topic. This will be accompanied with a campaign on our social networks through messages, photos and videos. We also plan to include comments and feedback from colleagues and external experts.
In addition to these activities, we are considering creating an interactive quiz and survey for our employees because we want to bring the topic closer to our colleagues in the most interactive, simple and fun way.
This interview was produced with the financial support of the European Union (project Workplace Inclusion Champion WIC). Its contents are the sole responsibility of the author and do not necessarily reflect the views of the European Union.