Dentsu Croatia signs the Croatian Diversity Charter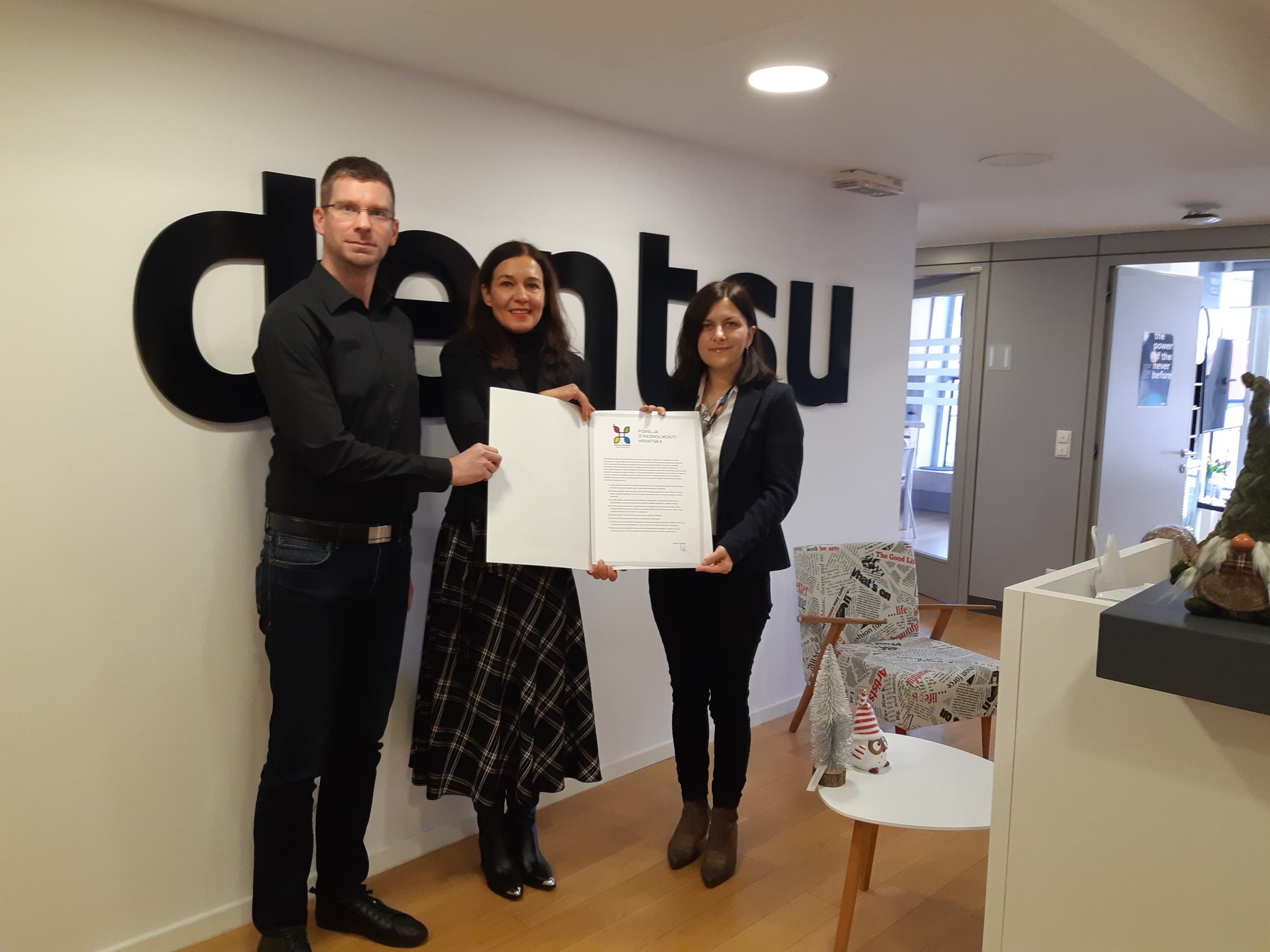 Dentsu Croatia signs the Croatian Diversity Charter
Dentsu Croatia officially becomes signatory of the Croatian Diversity Charter as of December 2021.
By joining the organization, the leading marketing agency is eager to broaden its commitment to Diversity, Equity and Inclusion. Dentsu Croatia also pledges to seek out diverse perspectives, celebrate differences, and build an inclusive culture where everyone is empowered to bring their authentic self to work. ‹
śI am especially honoured on behalf of my whole team for becoming officially part of the Croatian Diversity Charter. We in dentsu Croatia are committed to spread out our understanding that diversity is a driver to creativity, innovation, growth and productivity, and an incentive for individuals to fully reveal their knowledge, competences, talents and skillsť,
Maria Grachnova
, CEO of dentsu Southeast Europe and Diversity, Equity and Inclusion Champion for Central and Eastern Europe, explains. Dentsu Croatia promotes a culture of equal opportunity, with investment to drive sustainable change across its talent program, leadership capability, business practices, supplier choices and partner relationships. There are several major activities that have been implemented in the period 2020-2021 in order to secure a more diverse and inclusive organisation. The company ensures to drive a culture of diversity, anti-racism and anti-bias through its mandatory training programme with all its employees participating in a specialized diversity, unconscious bias, and inclusion trainings in Q1/2021. Dentsu Croatia is also encouraging mentorship through various international mentorship programs. From 2020 to 2021, 35% of dentsu Croatia team was able to benefit from international mentors or mentees from 145 market where the communications group is represented. 60% of mentees and 50% of mentors are female. People leaders at dentsu Croatia are trained to attract, bring, and develop diversity of thinking, experience, and mindset. The company uses a proprietary People Leader Accountabilities platform and Skills Academy resources to educate managers how to deliver a positive and inclusive employee experience. 100% of senior staff has passed the trainings on the People Leader Accountabilities platform. Being part of a likeminded community of Diversity charter supports this commitment to a long-term sustainable change in society and within marketing industry to ensure a culture of fairness, equity and equality for all and will strengthen company™s ability to become agent for change in this area across all its stakeholders " employees, clients, partners, and society at large " alike.